Good Times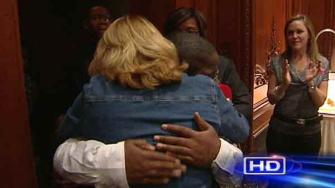 Madi woke up at 8:10 am this morning. I made her a bowl of Pops and cut up an apple because she said her tooth was loose. I told her she was getting her big girl teeth, that's why it was loose like that. I made myself a world class omelete and we watched "How To Train Your Dragon".
After breakfast we went clothes shopping for Madi at Old Navy and Ross. I bought her two long sleeve shirts one a yellow and white printed thermal and the other, a blue green long sleeve shirt. At Ross, I bought Madi a pair of girls size 10 Sponge Bob tennis shoes.
Afterward we went to my mom's house to make the Pillsbury Crescent Roll Pizza Pockets with Madi, Little Willie and his sister Erica. Here are some pics:


This is a pic of me and Madi we took last night. We were happy to see each other after over seven months.